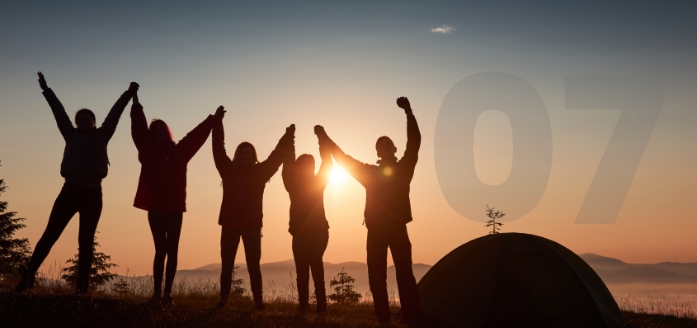 7 types of friends you need to have in your life
Friendships are a crucial part of life, and without them, your life is just a baseless emotion. To have a happy life, you should have some weirdos that can make your life a little more happening. The diversity in friendships is necessary so that you can taste every bit of chaos and happiness. All friends are not the same, and they will differ you somehow. But all of them will stay and help you at every corner and part of life.
Read this: Just For Two: List Of Party Couple Games
Different Types Of Friends That You May Need In Your Life
A friend who believes in you
In this era of the social world where people seek validation online, you should have real friends who believe in you no matter what. Social media acts differently to your posts, and it is not a correct way to define and assess your worth. Friends who believe in you will walk with you throughout your life and will never back down from anything. To have this type is very crucial. 
A friend who make sacrifices for you
People are busy in their own lives, and the one person who is always available for you is the friend you have to keep in your life. There are many excuses people will give you, but one person/friend is just a call away, and you should not let them go.
Whenever you are in some conflict or did something wrong unintentionally, there should be one friend who will protect you from that mess. He will step up for you and make everything alright again. A friend who defends you even in your absence is a diamond to keep.
Well, who doesn't crave compliments? A genuine compliment can make a day of a person. A friend who says nice things to you will automatically lift your mood. So it would be best if you had someone who should be authentic and be honest to you.
We deal with many things every day, and they can be hectic and draining at times. We should have a friend who can check on us and reach out to us if something happens. It's essential to be there from time to time to assure that somebody out there is keeping us safe and is caring.
Traveling is therapy and having a friend who is always ready to travel is just something you need in life. With them, you can hang out and discover various places. It will keep you relaxed and happy at the same time. 
A friend who roasts you keep the momentum alive. If there is no fun and entertainment, how boring will these friendships become? Making fun of friends is also a way to show how much they love teasing you. 
Every friendship is different, and that's what makes it beautiful. Friends stick with you through thick and thin and take off the pressure from you. Combining all types of friendships is bliss, and don't let your friends go away!
Have a look: Social Media and its role in Friendship